About Us
Original Design Painting Can handle painting projects for just about any size - from a single room-up to a large commercial complex project. All our painting project ensure that in the end it must enhance and protect our customers investment. Original Design Painting can apply weather and traffic resistance coatings to protect the structure for many years to come. From retail spaces, to periodic structural maintenance, Original Design Painting know exactly which quality coating paints to use. Contact us for more information or for a one on one face to face interview of our many craftsmanship abilities. We know which paints will work for your demanding needs. Our family business uses many of the latest paint and coating chemicals to ensure our customers receive the best. All our work is completed on a timely manner and at a minimum interference to your customers or business. We look forward to hearing from you. You won't be disappointed and we back up our work with and excellent guarantee of past satisfied customers.
Our Satisfaction
We are dedicated to providing our customers excellent service and quality workmanship for your utmost satisfaction. No one can go beyond the industry standards when it comes to knowledge of paint coating and their applications, but we can assure you that Original Design Painting is dedicated to go giving you quality professional service.
Our Business is to serve your painting needs whether it be for a commercial business or for your home. Our prices are very competitive for the area, plus we offer discounts and specials just by mentioning this website. We leave your work sites clean when complete and always with a completely satisfied customer. We don't promise - we produce a beautiful and product. Less talk, more honest result is our motto.
Based on our business relationship, which means pricing start and stop time, etc. you can depend on us to meet them as we promised. We can guarantee that you'll be so proud of our workmanship, and expertise in the field of painting that you'll be telling all your friends about us.
We don't use dumb works like "Caveat Emptor" since most of us don't even know what is means. Therefore we at original design painting want you to know that our work is always guaranteed, because we work with only the best paints and materials. If at anytime within our guarantee period that you are dissatisfied with our work, please feel free to contact us at no charge to assess the problem and make it right. For the past fifteen years Original Design Painting has been a family owned business doing quality work with guaranteed excellent customer satisfaction. We know what the best material are in the industry for painting and we strive to do are best in applying them. Contact us for an estimate. You won't be disappointed.
Lead Safe Work Practices
EPA?s 2008 Lead-Based Paint Renovation, Repair and Painting (RRP) Rule (as amended in 2010 and 2011), aims to protect the public from lead-based paint hazards associated with renovation, repair and painting activities. These activities can create hazardous lead dust when surfaces with lead paint, even from many decades ago, are disturbed. The rule requires workers to be certified and trained in the use of lead-safe work practices, and requires renovation, repair, and painting firms to be EPA-certified. These requirements became fully effective April 22, 2010.
Lead paint safety is critical. Home repairs that create even a small amount of lead dust are enough to poison your child and put your family at risk. If you live in a home or apartment that was built before 1978 and are planning a renovation or repair project, make sure you renovate right with a Lead-Safe Certified contractor in accordance with EPA guidelines. They will know how to protect your family.
Why should YOU insist on seeing THIS SEAL?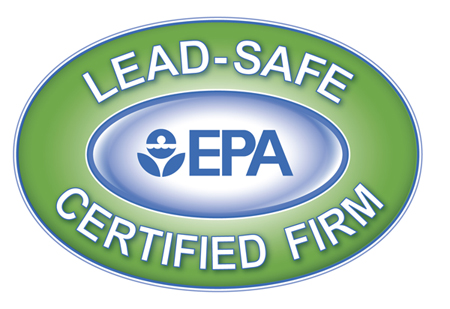 Lead Paint Safety can?t be left to chance. Original Design Painting is a RRP (Renovation,Repair,Painting) Certified Contractor and has been compliant with the EPA?S Federal Law